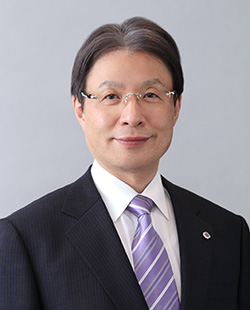 June 2016 – present President, Japanese Association of Rehabilitation Medicine
Professor, Kyoto Prefectural University of Medicine
Toshikazu Kubo
Background
The Ministry of Health, Labour and Welfare published a White Paper in 1960 that proposed the necessity of rehabilitation medicine. Based on this proposal, JARM was established in 1963 as a joint venture between the orthopedic and internal medicine fields. After starting as a private organization, JARM subsequently became an incorporated association in 1989 and then as a Public Interest Incorporated Association in 2012. JARM marked its 50th anniversary in 2013, and aims to continue our contributions.
Rehabilitation medicine in Japan was initially established by Dr. Kenji Takagi, who became Professor of Orthopedics at the University of Tokyo in 1924. Dr. Takagi proposed the philosophy of "Ryoiku" which is a neologism of the Japanese characters for "treatment" and "education". The main patients in the early days of rehabilitation medicine were those with pediatric diseases, including polio and cerebral palsy. Later, patients with amputations due to war, occupational accidents, and fracture and spinal cord injury due to traffic accidents were also added to rehabilitation medicine. More recently, the rapid increase of an aging population has added cerebral infarction and osteoarthritis to the field. Therefore, patients who have benefitted from rehabilitation medicine ranged from children to the elderly as the times have changed.
Our Challenge
Today, diseases and disorders treated by rehabilitation medicine are diverse, and include motor disorder, cerebrovascular disorder, cardiovascular and respiratory disorder, eating/swallowing disorder, pediatric disease, and cancer. Furthermore, the aging of society has increased the demand for quality rehabilitation at home, as well as in hospitals and care facilities.
In addition to training, prosthesis fitting, pharmacotherapy, physical stimulation therapy and nutritional control are also important disciplines in rehabilitation medicine. Rehabilitation doctors treat patients with a combination of these therapies, and support patients for the improvement of "activities of daily living" (ADL). Successful treatment requires a good rehabilitation team, in which physical therapists, occupational therapists, speech-language-hearing therapists, nurses, orthopedists, pharmacists, registered dietitians, and clinical social workers all play important roles. Rehabilitation doctors have a great responsibility as the team leader. Many of the elderly patients have diseases and disorders in multiple organs, and rehabilitation doctors must understand the pathology of these diseases and disorders in order to provide safe and effective rehabilitation medicine. Therefore, inter-professional liaison with specialists in other fields is important.
Internationalization is also necessary for the improvement of rehabilitation medicine. For example, JARM has created a journal in English language called "Progress in Rehabilitation Medicine", and the 2019 World Congress of the International Society of Physical and Rehabilitation Medicine (ISPRM) will be held in Japan. The 2019 Congress will increase international contribution to academic and clinical fields in Japanese rehabilitation. We believe that it is important to encourage young Japanese physicians attend these international meetings because the mutual exchange of the latest information among countries can bring together globally successful outcomes.
As rehabilitation medicine becomes more important, we are faced with higher expectations for optimal outcomes. There is a need to accumulate evidence to validate the usefulness of therapies. In addition to conventional techniques, other approaches such as robotics, electric and magnetic biophysical stimulation, and state-of-the-art devices including brain-machine interface (BMI) systems are also being studied, indicating the importance of coordination with the medical engineering field and industry-university collaborations. JARM has the responsibility of validating conventional therapies and promoting development of state-of-the-art devices to improve patient QOL.
The immediate issue is that there are an insufficient number of rehabilitation doctors in Japan. According to a survey by the Ministry of Health, Labour and Welfare in 2010, the required number of rehabilitation doctors was higher than the number of existing doctors, and therefore, the situation is more serious than other fields of medicine. To improve the situation, it is important to enhance the education and establish courses in rehabilitation medicine in medical schools across the country. Training of highly qualified rehabilitation doctors can be realised by developing systematic educational programs. More on this can be read in Volume 53 of JARM's journal.
Diversity management, a process to activate systems with diversity, is a part of rehabilitation medicine because it deals with various diseases and disorders, and requires cooperation among many hospital departments and doctors. Furthermore, we can make pleiotropic contributions to the society like promotion of sports for the disabled and establishment of an "inclusive society" in which people have a fulfilling life regardless of their disability.
For the Future
JARM faces several challenges and I am determined to address these and do my utmost to make a difference. I would highly appreciate any support and advice from JARM members and all other people involved.
In 2017, WHO made an official statement (Rehabilitation 2030: A Call for Action) regarding the importance of rehabilitation medicine in response to global demands. For reasons such as health disparities caused by economic disparities, aging of global population and constant occurrence of natural disasters, the needs for rehabilitation medicine have expanded and immediate action is required.
JARM has renewed our English website to offer the latest information globally in the hope that Japanese rehabilitation medicine can contribute to the guidelines and measures to safeguard the well-being of the people all over the world. We hope to share Japan's experience in dealing with an unprecedented aging population and ways to recover after earthquakes, typhoons and other natural disasters.
We sincerely hope that this website helps to develop a better understanding of Japanese rehabilitation medicine.
November 2018