"The current state and future of prosthetic appliances throughout the world"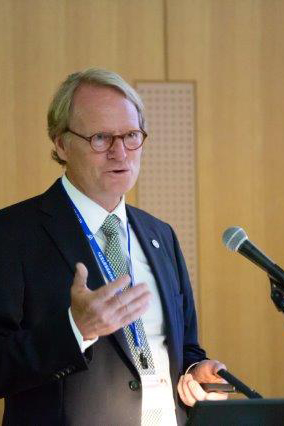 Bengt Söderberg
Mahidhol University, CEPO, Bangkok /Skane University Hospital, Sweden / Former ISPO International President
Q.What is your impression of finishing your lecture?
Bengt Söderberg : Since it was an early morning session and language barrier, I was worried that the number of participants. But finally, lots of audience were join the discussion. I enjoyed the session.
Q.Which research field are you interested in now?
Bengt Söderberg : Once in the developing countries, disabilities gave up their lives without recovering any medical mare. However, thanks for the progress of rehabilitation medicine, it is possible for people with disabilities to provide medical care and recover their function. Japan has the excellent medical insurance system. Japan has a positive impact on neighboring Asian countries such as Thailand and Vietnam.
With Dr. Takaaki Chin
President, ISPO Japan / Chair, Local Organising Committee / Vice-chair, ISPO 17th World Congress / President of Comprehensive Rehabilitation Center, Hyogo Social Welfare Corporation